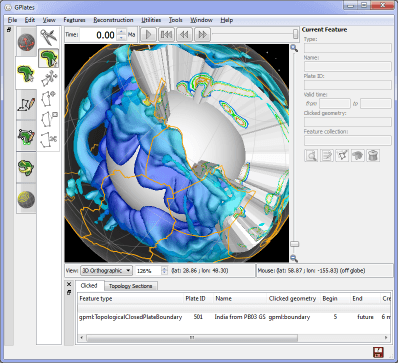 What's new in version 1.3:-
Integration of Orange and GPlates as a data mining toolkit suite.

Includes Orange widgets to obtain pre-processed (co-registration) data from GPlates via network socket requests.

New GPlates Rotation (GROT) file format:

Extends PLATES4 rotation format to include a much richer set of metadata attributes.
Please visit the GPlates Rotation (GROT) page for more details.

Surface relief lighting:

Visually transpose one raster onto another in the form of relief/height map shading.

Volume visualisation of 3D scalar fields (early preview functionality):

SVG export includes rasters, 3D scalar fields and filled polygons.
Export arbitrary resolution rasters (eg, 3,000 x 3,000 pixels).
Support for reading the OGRGMT file format ('.gmt').
New finite rotation calculator utilities.

New velocity imports/exports:

Velocity domain generators for Terra and Lat/Lon meshes.
Export velocities to Terra (text), CitcomS global and GMT formats.

Calculate velocities in "Calculated Velocity Fields" layer:

'of domain points' - calculate velocities of reconstructed points.
'of surfaces' - calculate velocities of surfaces that intersect domain points.

Enhanced velocity arrow display controls including screen space density and arrow scaling.
New topological 'line' tool creates dynamic polylines.
Canvas tools grouped into workflow tabs.

Centralised GPlates Geological Information Model (GPGIM):

GPGIM stored in a single XML file.
All GPlates dialogs now conform to this central GPGIM.
Features can now have either topological (dynamic) geometries or static geometries.

Upgrades to Manage Feature Collections dialog including sort-by-filename and group selections.

GPlates now contains a small assortment of commands (on the command-line):

Commands are specified on the command-line and do not invoke the graphical interface of GPlates.
Run GPlates with "--help" to list the commands and the options available to each command.
However, in future, we will be recommending our GPlates Python programming interface (work in progress).

Filled polygons in 2D map views.
Improved filled polygon performance.
Filled polygon opacity and intensity controls.

Raster reconstruction now works with 'self-intersecting' polygons:

Should mostly fix holes in reconstructed rasters due to missing polygons.

'age' colour palette button in raster layer (to use when loaded raster is an age grid).
...and many other changes that are listed in the CHANGELOG file in the GPlates source-code releases.
GPlates 1.3 compiles and runs on Windows 7/Vista/XP, Linux and MacOS X. Download GPlates 1.3 from the Download page.
GPlates-compatible data have been made available. For more information, see the Download page.