Plate tectonics and kinematics in GPlates (High School)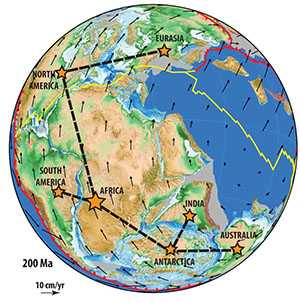 This exercise is an introduction of how to load in a plate reconstruction, achieve some basic visualisation, and also interrogate the speeds and relative motions between tectonic plates.
---
Reconstructions of Gondwana using GPlates (Undergraduate)

This activity applies first principles of Plate Tectonics to reconstruct the original arrangement of Gondwana in the Pangea supercontinent. It uses continent-ocean boundaries, fossil data, and geophysics to help guide the restoration of Gondwana.
---
AN APPLE PIE FROM SCRATCH, PART V SUPPLEMENT: TECTONICS: USING GPLATES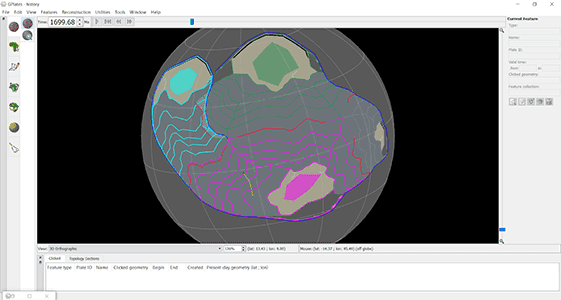 There is a blog writen by WORLDBUILDING PASTA, describing how to use Gplates to turn that concept into a tangible reality.
---
GPlates Tutorials

There are many Introductory Tutorials viewable online via Google Docs or downloadable as PDF. Each one describes how to accomplish a specific task in GPlates. Read these for a more in-depth guide that explains how various GPlates functions can be used within the context of an example workflow.
A video showcasing some of the most recently added functionality of GPlates can be found on the Features page.
The live versions of the tutorials are hosted on Google servers. If you are in China or cannot access Google servers, the tutorial PDFs and related files may be downloaded from the archive found here.
---
GPlates Python Tutorials

There are PyGPlates tutorials in the form of Jupyter Notebooks that analyse and visualise real-world data using pyGPlates.
These tutorials complement the sample code in the pyGPlates documentation by providing a more research-oriented focus.
---