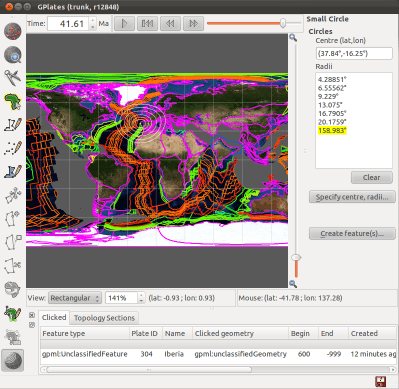 What's new in version 1.2:-
New Small Circle tool:

Create small circles directly on the globe or map using the mouse.
Create small circles by specifying the centre and radii, and generating the centre from a stage pole if desired.
Create small circle features which can be: exported to gpml, imported from gpml, and visualised as a layer.
Query and edit small cirles through the Click Feature canvas tool.

The Total Reconstruction Sequence dialog has been extended to allow:

Creation, editing and deletion of Total Reconstuction Sequences (TRSs).
Saving TRSs to existing rotation files, or to a new rotation file.

Rasters can now be visualized in the map views:

Supports all raster variations (reconstructed, time-dependent, age-grid and combinations of these).

Raster opacity (and intensity) can be adjusted per layer to control semi-transparency.
Python colouring (see user manual for details):

Power users can create/register their own Python colouring scripts.
Can use preliminary Python Application Programming Interface (API) to query feature properties.

Option to dateline wrap Shapefiles when saving and exporting.
New Log dialog displays low-level debug, warning and error messages.
New Preferences dialog provides an interface to view and modify settings and parameters used in GPlates.
Improved interactivity for very high resolution rasters (eg, approx. 1 minute resolution).

New GPlates raster streaming tiled file format (files ending with ".gplates.cache").

Clone Geometry tool can clone topological plate polygons.
The Calculate Rotation Pole tool has its field automatically filled from an already-selected pmag VGP.
Fixed slow saving to Shapefiles.
Fixed rotation taking the longer path around a pole on rare occasions.
Fixed holes appearing in large filled polygons.
Fixed extremely long running time for Assign Plate ID assignment.
Fixed exponential loading times when restoring many files during a session restore.
... Plus a number of other improvements and bug fixes.
GPlates 1.2 compiles and runs on Windows 7/Vista/XP, Linux and MacOS X. Download GPlates 1.2 from the Download page.
GPlates-compatible data have been made available. For more information, see the Download page.