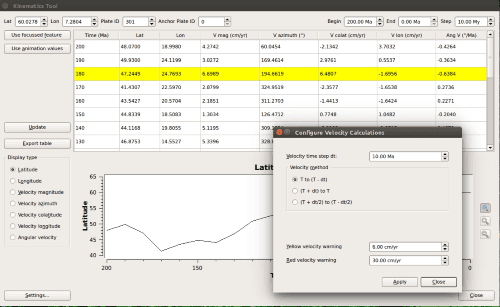 What's new in version 1.5:-
Projects:

Save and restore your sessions with project files.

New kinematics tool:

Displays table of latitude, longitude, velocity, and velocity-related quantities for a given lat-lon point, plate ID, and range of times.
Displays graph of above quantities against time.
Exports table to text file.
Kinematic tool settings dialog to change details of the velocity calcliations.
Kinematic tool settings are saved in user preferences.
Auto-fills point data from focussed feature.
Auto-fills time ranges from animation settings.

Import and export GeoJSON format feature collections.
...and other changes listed in the CHANGELOG file in the GPlates source-code releases.
GPlates 1.5 compiles and runs on Windows 7/8/8.1, Linux and MacOS X. Download GPlates 1.5 from the Download page.
GPlates-compatible data have been made available. For more information, see the Download page.