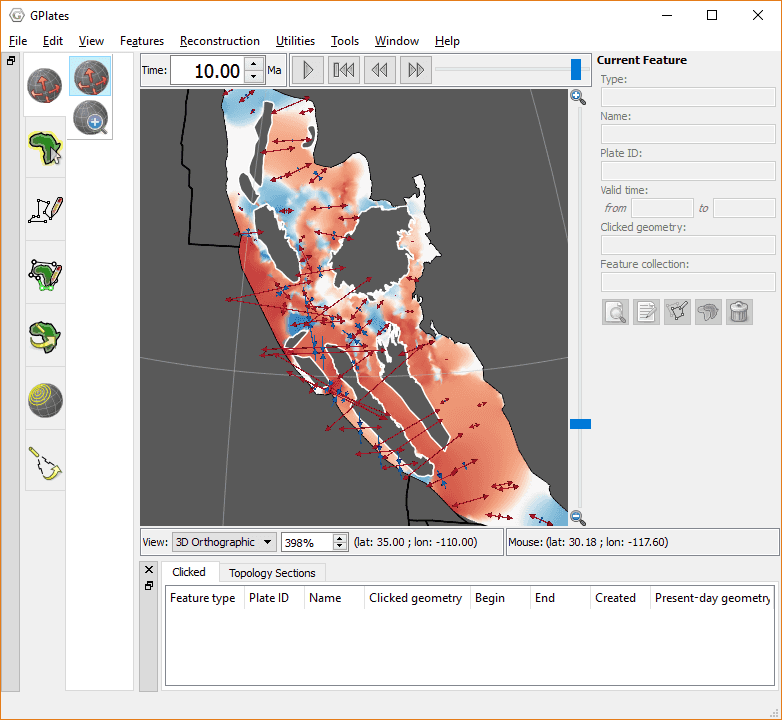 What's new in version 2.0:-
Projects and recent sessions:

Now saves and restores all layer information:

Including layer order, visibility and all settings within each layer (such as colour styles and colour palette filenames).

Open projects using File menu, drag'n'drop, double-clicking or command-line.
Project name displayed in window title.

Copy a project to another computer. For example:

Zip up a folder containing project file and associated data files (including colour palette files).
Unzip to another computer and open project file.

Option to locate missing data files (when loading project or recent session):

Useful when data files moved since project or session was saved.

Option to resolve ambiguous data filenames (when loading relocated project):

Useful when data files exist in both original and relocated locations.

GPlates 2.0 can open projects and recent sessions saved by all prior versions of GPlates:

However information saved by earlier versions is limited.

GPlates 1.5 can open projects and recent sessions saved by GPlates 2.0:

However restored information is limited (to what GPlates 1.5 can understand).

Deformation:

New Hellinger tool:

Net rotation export:

GPlates now calculates and exports net rotation of the lithosphere (based on the method of Torsvik et al., 2010) using global coverages of dynamic plate polygons.
Net rotations are exported via the standard "Export…" tool, and by selecting the "Net rotation" export type.
Any dynamic plate-polygon data sets currently active in GPlates will be used as the basis for net rotation calculations.

Official public release of volume visualisation:

No longer require command-line switch to enable importing of 3D scalar fields.

Latest improvements:

Reads georeferencing and spatial reference system (SRS) from first depth layer during import.
Frees disk space after import (removes cached depth layer rasters).
Fixed flickering cross-sections.
Fixed SVG export of isosurfaces (on Mac OS X).

Improved OGR spatial reference system (SRS) support:

GPlates now has more complete support for OGR-supported files (e.g. ESRI shape file, OGR-GMT and others) which provide spatial reference system / projection information.
Any SRSs supported by the PROJ4 library should now be accepted by GPlates.
When saving to a file which had a non-WGS84 SRS associated with it, GPlates will prompt the user to export in either the original SRS, or in WGS84.
All other forms of file export in GPlates continue to use WGS84.

Donut polygons:

Contain interior holes.
Supported in file input/output, raster reconstruction, filled polygons, 3D scalar fields, etc.

Colour palette improvements:

Available in raster, 3D scalar field and scalar coverage layers.
Remap the range using mean and standard deviation of the layer data (raster, 3D scalar field or scalar coverage).
Added a variety of built-in colour palettes based on ColorBrewer sequential and diverging colour scales.

Raster reconstruction improvements:

Improved stability and speed when connecting raster layer to polygons layer.
Removed raster seams/cracks between adjacent polygons.

Toggle visibility of all layers:

Using the new visibility icons in the Layers dialog.

Combine multiple rotation layers into one layer.
Added velocity time interval options to velocity layers.

New half-stage reconstruction (version 3) for mid-ocean ridges:

Changes to spreading asymmetry, after digitisation, no longer incorrectly reposition ridge.

Improved handling of import / export directories:

GPlates now stores the last used directory for Project files.
In addition, there is more fine-grained support for both Feature Collection and Project folder preferences.
These can be adjust through the Preferences (Ctrl+,) dialog.

Added named ages with timescale information and uncertainty tracking:

Supported for various feature types in GPlates Geological Information Model (GPGIM).
Find-as-you-type named ages with timescale colouring.
...and other changes listed in the CHANGELOG file in the GPlates source-code releases.
GPlates 2.0 compiles and runs on Windows 7/8/8.1/10, Linux and MacOS X. Download GPlates 2.0 from the Download page.
GPlates-compatible data have been made available. For more information, see the Download page.