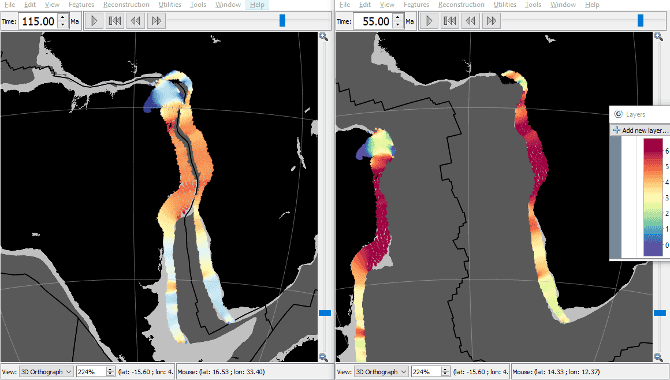 Download GPlates 2.3:-
Download GPlates 2.3 and compatible geodata from the Download page.
What's new in GPlates 2.3:-
Deformation:

Added tectonic subsidence due to crustal stretching and subsequent cooling of lithosphere.

Numerically solves 1D temperature advection-diffusion equation over lithosphere depth at each surface point:

Solved during and after crustal stretching.

Initial conditions:

Linear temperature gradient over lithosphere depth (equilibrium state).
Zero subsidence.

Improved stability of crustal thinning calculations by clamping strain rate.

Rendering:

Supports high-DPI displays (eg, Apple Retina).
Added two new age palettes (traditional and modern) along with existing legacy.
Tool palette on macOS now looks similar to Windows and Linux.

Export:

Support export of GeoJSON files.
Added choice in general resolved topology export (in relation to sub-segments of topological line segments).
OGR GMT exports now have dateline wrapping disabled by default (previously enabled by default).

Layers:

New option in yellow layer to extend rotation sequences beyond oldest times in rotation file:

Such that reconstructed geometries are not snapped back to present day positions.

Memory usage:

Reduced memory usage of geometries:

Multi-points reduced 40%.
Polylines and polygons reduced 33%.

Reduced rotation tree memory usage by 25%.

Build:

Overhauled build system to use modern CMake 3.
Create standalone binary packages within the build system (for macOS, Windows and Linux).

Standalone recursively installs dependency libraries into package.
Windows supports NSIS installer and ZIP archive (both standalone).
macOS supports DMG disk image (standalone).

Signs GPlates bundle, its internal contents and final DMG with a Developer ID certificate.
Notarization by Apple still manually done outside build system.

Linux supports:

Debian package (non-standalone: system package manager installs dependencies).
Tarball (standalone: pre-packaged dependencies).

Library dependencies:

Significant upgrade to Qt version 5 (from version 4).
GPlates and pyGPlates now link to zlib (no longer require the gzip program).
Ported Hellinger Python code to Python 3, and NumPy >= 1.12.
C++11 is now the minimum C++ language requirement.

GDAL 2.3 and above require it.
CGAL 5 and above require C++14.

Updated GPlates icon to new blue icon.
Changed version numbering to support pre-release packaging (dev, alpha, beta, release candidate):

Bug fixes:

Fixed macOS scrollbar in layers window obscuring underlying layer controls.

Fixed exporting CitcomS topological segments using a header format CitcomS is unable to pre-process:

This resulted in missing subduction polarities, for example.
Behaviour now matches GPlates 2.1.

Fixed exception/crash in the following topological scenario:

a topological polygon sub-segment is a rubber-banded resolved topological line, and
shared by two topological polygons, and
we're retrieving its sub-sub-segments (eg, in general resolved topology export).

Fixed topology resolving at triple junction with rubber bands converging on a single point.
Fixed crash when a point inside a deforming network's rigid block is not always detected as such.
Raster fixes:

Fixed bug where part of a raster touching dateline is stretched right across map (in 2D map views).
Fixed incorrect clipping of high resolution floating-point rasters in map view.
Fixed missing square sections in raster when using non-zero central meridians in map view.
Fixed regional imported raster not getting exported with same extents.

GPlates log file now saved to writable location when current working directory lacks write permission:

For example, save to C:/Users/<USER>/AppData/Local/GPlates/ when GPlates installed to C:/Program Files/.

Enable writing of .json files (not just .geojson).
Fixed PLATES rotation file sometimes having unsaved changes (immediately after loading).
Fixed one GROT file getting saved with the contents of another GROT file.

And also crashing when trying to save the first GROT file after unloading the second one.

Kinematics tool:

Angular velocity (rads/Myr) is now always positive since stage rotation pole is arbitrary,
because can negate pole/angle pair and get same rotation, so just take absolute value.

Fixed crash on Linux when opening a save file dialog to get project or feature collection file name.
Fixed default user preferences not getting initialised properly on some systems.
Fixed dateline wrapping parameter not getting used for export to OGR GMT format.
Fixed polyline around the equator not getting intersected with small polygon crossing it.
Fixed some zero area dateline sliver polygons giving incorrect areas (multiples of PI instead of zero).
Fixed polygon around the equator ending up with zero area instead of 2*PI (ie, half the globe).
...and other changes listed in the CHANGELOG file in the GPlates source-code releases.
What's next:-
Unfortunately we were unable to release some features currently in progress. So the following features will be in the next release:
The first phase of generalized symbology:

Point symbols, line patterns, fill patterns.
With priority for subduction teeth.

Tilting the globe:

To see 3D volumes better.

A new 3D Perspective projection view.

Alongside existing 3D Orthographic view.
Farther objects appear smaller, as in the real world, unlike orthographic.

Fix incorrect rendering of 3D volumes (and crashing) on some modern macOS hardware:

Provide overhauled OpenGL graphics pipeline, upgraded for relatively modern hardware (in last ten years).
Also currently looking into:
Improved integration of external vector formats (Shapefiles, etc).
Time-dependent 3D volumes.